WELCOME TO THE STEVE CRABB COACHING WEBSITE
This is your invitation to be excellent…
Is your work and personal life just as you want it to be?

Are you sure that there is more but not sure how to create or achieve it?

What would you change or create with your life if you knew you could not fail?
Now is the right time to step forwards and live an excellent life.
Life is not a dress rehearsal, we get one chance to live it to the full and enjoy it … no ordinary life … no ordinary experiences… no dramas… no playing small. Wouldn't you love to know where you really come alive and know how you can create easy, effortlessly and enjoyable success. I don't claim that I know all the answers or have everything "sorted" but I do claim to know how to make significant differences to peoples lives both professionally and personally through Transformative coaching.
"When life is ready to transform your Transformative Coach appears"
You found this website and are reading this for a reason. If you have followed what I call the "breadcrumb trail" the links that lead to the next link then you are here because its the right time and place for you. There is no need to look further.  You may not know how to make the changes you desire, you may not even be sure at this stage what you want, but you do have to be willing to explore new possibilities. Are you up for a magnificent journey?. If you are really serious about making transformative changes to your life and I'm not talking about "tweaking things a little bit", I'm talking about REALLY living your excellent life full on .. lets start by having a conversation. Contact Steve
You are the world leading expert on you, no one knows you better then you do. I on the other hand am recognised as a world leading expert on the nature of thought, human emotions, human behaviour, strategies for peak performance and success. As a Master Trainer of Linquistic Programming, Master Transformative Coach and Clinical Hypnotherapist and having worked with over 5000 clients and trained over 50,000 people on three continents you can be assured I will bring to our coaching conversations skills, experience, attitudes and ideas that few coaches let alone clients even know exist whether thats for personal or professional development… Lets Talk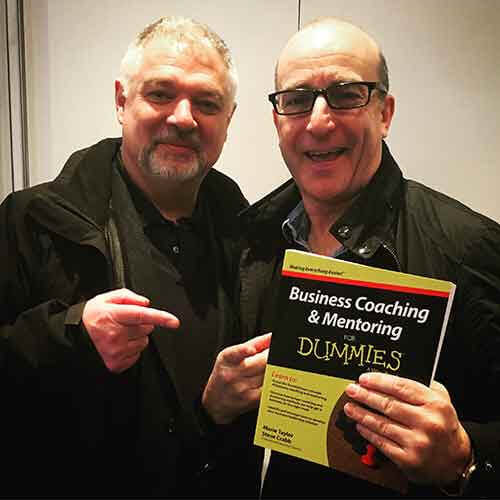 "If you want to be the best then learn from the best and I regard Steve Crabb as one of the most talented coaches in the world. In this book he shares his depth and knowledge of business and coaching with humour and great generosity, it is jam packed with gems of wisdom. 
 If you are new to coaching this is a great place to start, if you are an experienced coach this book will take your game to a new level. If you are in business you will learn why coaching is becoming  recognized as the "must have profession" for anyone serious about taking your business to the level of absolute excellence. This book is required reading for everyone who is in coaching and business. However, it is certainly not for Dummies."
Paul McKenna Ph.D
Want some free stuff?
Access all of Steve Crabbs free training resources via the new Media-HUB
Open Media-HUB
Transformative Coaching / Mentoring with me, has been described as edgy, inspiring, provocative, unique and honest. It will also certainly be a fun, memorable and enjoyable experience; and above all else it will make an incredible difference to the quality of the life you already live. Coaching will inspire excellence and transform your life both personally and professionally.  Be assured that when we work together you are joining other amazing people (millionaires, globally recognised entrepreneurs, Blue chip companies, Olympic Athletes, Formula One teams, stars of stage, screen and music plus lots of magnificently everyday people.) all of them understood the power of having a coaching / mentor as part of their life support team. Client Testimonials
If you are really curious about what can transform in your life, and how coaching will make your HOPES, WISHES, DREAMS and DESIRES a reality, then lets start by having a conversation.  Contact Steve
I look forwards to hearing from you and working with you in the near future
Master Trainer of NLP, Master Transformative Coach & Clinical Hypnotherapist
"Using NLP, Transformative Coaching, Clinical Hypnotherapy, to make the impossible possible, the possible easy and the easy so it comes natural and effortless"
If you want to experience hypnosis and learn how to quickly and easily change the way you think and behave at an unconscious level, then visit my audio download website where you can learn How2Easily make changes.